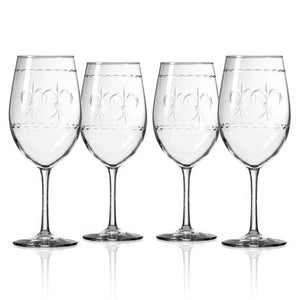 Rolf Glass Fleur De Lis (French for lily flower) is a time-honored symbol used to represent both religious and political unity. It has appeared on countless European coats of arms and flags over centuries.
The Fleur De Lis 18oz All-Purpose Wine is diamond cut and beautifully polished to a brilliant shine.
$13 Each
Dishwasher safe
Domestic glass
Diamond-wheel engraved and Polished in the USA
18oz
H: 8 7/8"
D: 3 1/2"